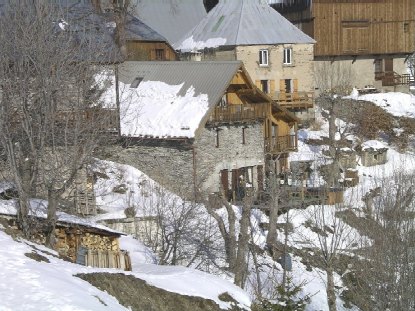 La Source Ski Chalet in spring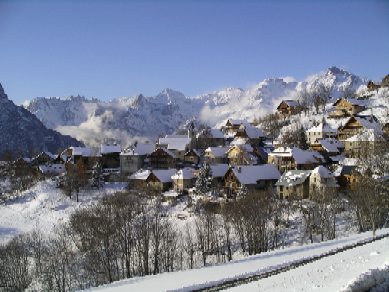 Villard Reculas mountain village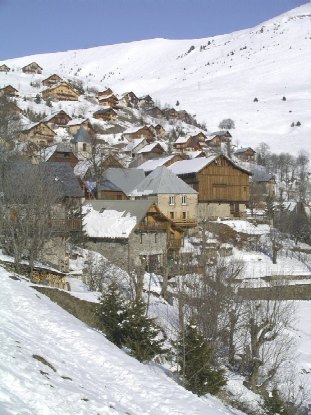 La Source Ski Chalet in Villard Reculas
Unspoilt Mountain Ski Village, linked to Alpe d'Huez, France
Villard Reculas is a beautiful traditional French ski mountain village situated at 1550 metres. Whilst remaining unspoilt it has easy access to the enormous Alpe d'Huez ski resort.
Snow cannons have now been installed from the top of Signal Hill to the lowest slopes in Villard Reculas, to ensure a snow-sure return pistes throughout the long season.
In the village there is one hotel, several restaurants and bars, a well stocked supermarket, 2 sports shops with ski and snowboard hire facilities, and a local branch of the ESF ski school.
The village is serviced by a high speed quad chair lift, which connects quickly and easily to the main ski area of Alpe d'Huez.
The slopes in Villard Reculas are west facing and hold the snow exceptionally well. The village has its own ski school and and a variety of slopes for all abilities including nursery slopes.
Premier French Ski Area
Alpe d'Huez is one of France's top five alpine high altitude ski resorts and boasts an excellent snow record and extended season. It is renowned for its sunshine record and spectacular views of the Ecrin National Park Mountains.
The ski lift system of Alpe d'Huez is amongst the most modern in Europe and there is excellent skiing & snowboarding for all abilities. For beginners the lower ski slopes surrounding Alpe d'Huez provide confidence boosting green and blue ski runs. Intermediates will find miles of interesting blue and challenging red ski runs with fantastic excursions to the satellite villages.
The advanced skier will find some of the most testing terrain in France from the top of Pic Blanc at 3330 metres, including the 'Tunnel' and the 'Sarenne' – the longest black ski run in Europe(16kms). The Sarenne glacier's access from the top of Pic Blanc was improved during the 2003 season with the installation of two 4 man chairs.
Access to the Sarenne glacier was further improved in the 2004 season with the installation of Marmotte 3 - a 'Funitel' ski lift capable of transporting 1000 skiers per hour in all weather conditions. This provides 2 access points to the glacier and allow snow-sure glacier skiing throughout the long 5 months winter French ski season
For snowboarders Alpe d'Huez is 'friendly' with its own snow-park suitable for beginner and intermediate snowboarders, and spectacular off piste possibilities for the more advanced snowboarder.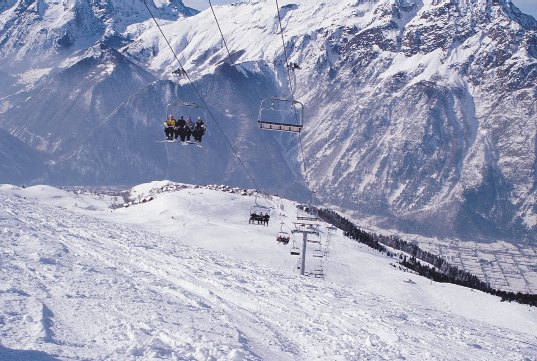 Villard Quad lift -
gives fast easy access to the
ski areas of Signal Hill
and Alpe d'Huez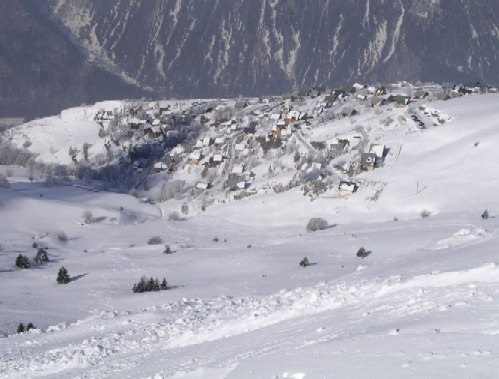 Classic off piste return down to Villard Reculas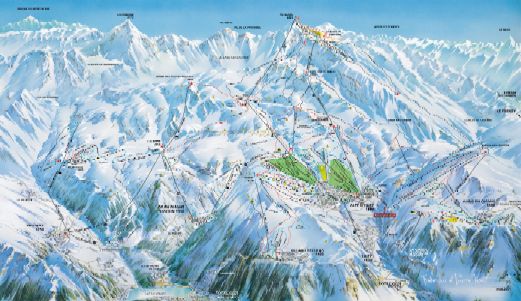 Piste Map of Alpe d'Huez
& Villard Reculas ski areas, France
(full size)